Thanks to the release of 02/11, the configuration of the Broom Paper and the corresponding report is done directly from the new zView, which can be accessed via the following link:
↳ Useful link: ZaK > Reservations > zView
☞ Docs: ZaK - zView
NB: Please note that if you are already using the service, everything will remain the same. You will have to switch to the new Broom Paper! To do this, simply configure the new one and discard the current one, which will remain visible.
Let's see how to configure the Broom Paper and then confirm each cleaning. Click on the icon in the top right-hand corner

and then on "Broom Paper":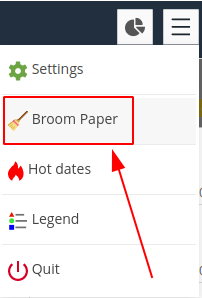 At this point you will find several sections, which we will explain one by one below.
Policies
Here you define the cleaning policies for your rooms, specifically for check-ins, check-outs, occupied rooms and empty rooms.
You can choose between no cleaning or quick, normal or complete cleaning. You can also define whether or not sheets, towels or both should be changed: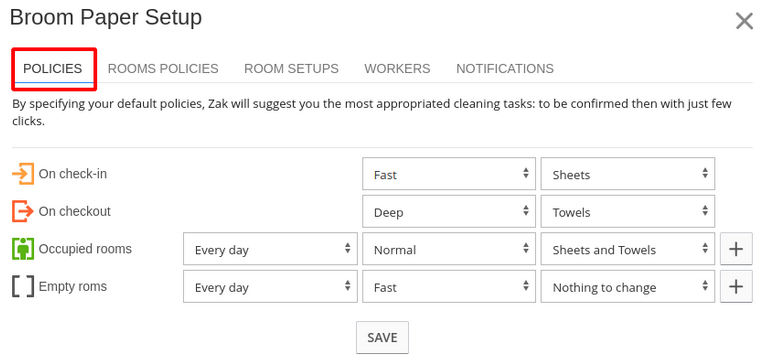 Rooms Policies
If the settings in the "Policies" section do not apply to all rooms, then you can define one or more exceptions here, i.e. customized cleaning policies for one or more rooms. For example, for room 301 I prefer a deeper and more frequent cleaning policy, which I will then set here:
---
Room Setups
Room setups indicate to the cleaner that the room should be prepared in a different way than usual, i.e. non-standard. For example, with an extra bed, with a double bed, with two separate beds, with luxury preparation, etc. Each setup can be assigned a colour, which will be visible in the zView. Here you can find some predefined setups (the ones with the rosette) or you can create new ones: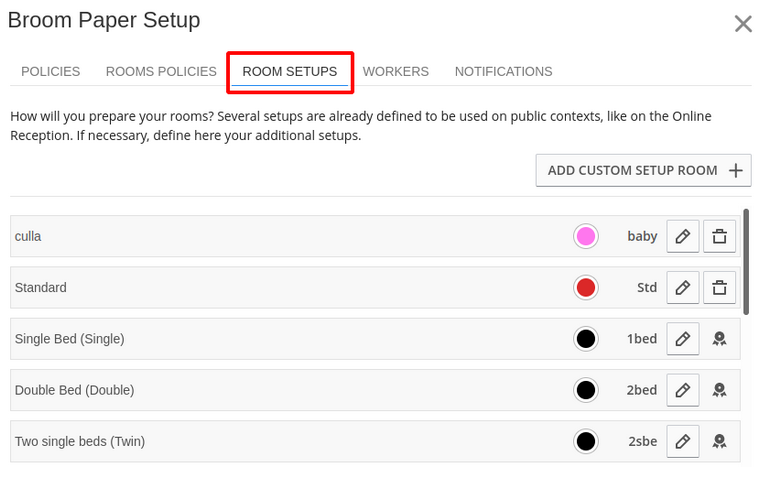 To assign a setup to a room, click on the cleaning icons and then on "Edit":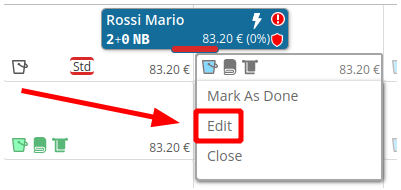 In the example, I choose the setup with an extra bed: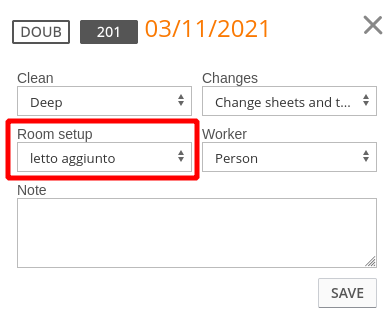 Workers
From this section you have the possibility to add one or more cleaners. You can then distribute the cleaning tasks among the different workers and send each one a link with their cleaning tasks. For each worker you can also specify their email and phone number, which you will need to send the link. Therefore, once you have created the worker, you can send him/her the link via email, SMS or Whatsapp by clicking on the appropriate button (as indicated by the arrow in the following image):
NB: You only need to send the link once: when you update something on the zView, it will automatically update in the link that the cleaner has and vice versa.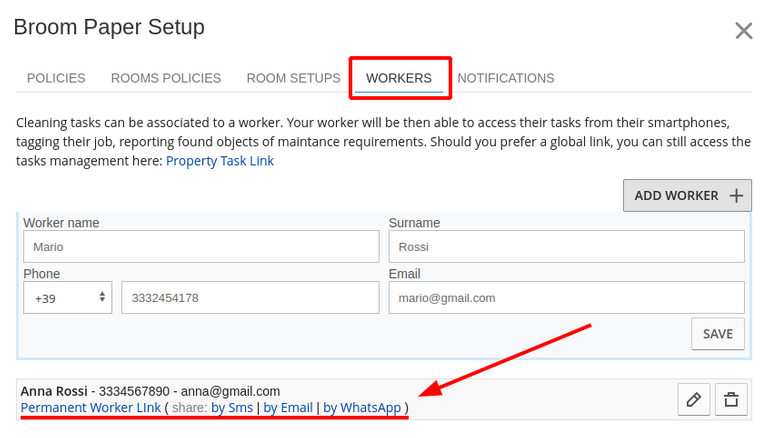 Options
Here you can enable or disable the receipt of an email for three cases:
- when a worker from his link marks a cleaning as done
- when a worker reports that there is a Maintenance to be done for a room
- when a worker reports that he has found an object in a room
In addition, you can choose here that ZaK automatically remembers previously used workers. So if you choose the option "Yes, auto assignment", after 2 or 3 cleanings you confirm with the same worker, ZaK will remember him for the next ones.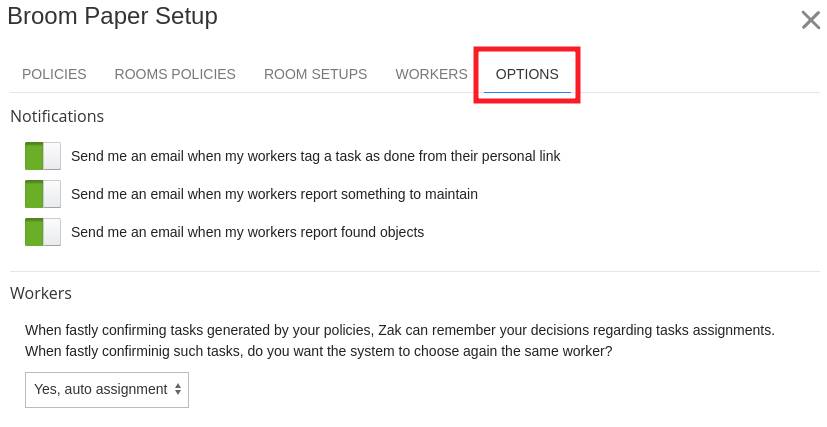 Confirm the cleaning to be carried out and mark it as done
Having defined your cleaning policy does not mean that it will automatically apply to all your rooms and all your days. Or rather, they will be, but they need to be confirmed manually by you first.


If you see the cleaning icons in a box in light grey, it means that they have NOT yet been confirmed. For example: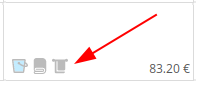 You can therefore click on them and choose to confirm or modify them: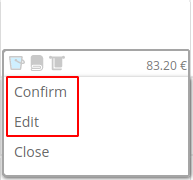 In case of a change, you also have the possibility to enter a note, which will be visible to the cleaner from your link: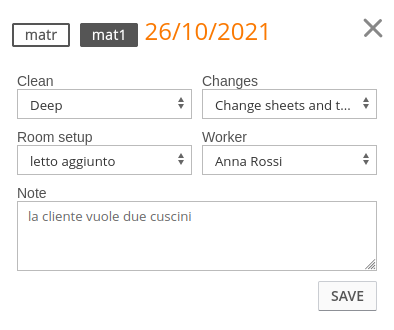 Once a cleaning is confirmed, the icons will become darker and that cleaning will be visible in the link of the assigned worker: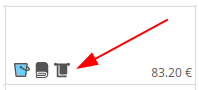 If you would like to confirm the cleaning of all rooms for a certain day with a single click, click on the box of the day at the top and you will find the entry "Confirm All Tasks":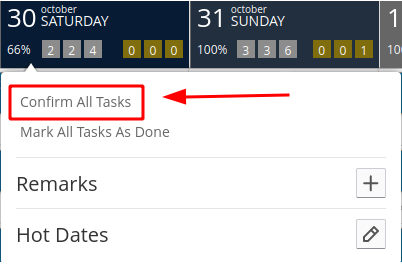 Similarly, from here you can also mark all of that day's cleaning as done by clicking on "Mark All Tasks As Done". Or you can click on each individual cleaning for each day/room and mark it as "Done":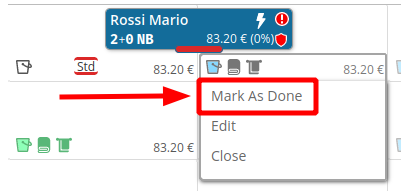 Links for the workers
You can send the cleaner your own link with your cleaning tasks, as indicated above under "WORKERS". If you prefer a generic link rather than one for each individual worker, you can obtain it from the same section, by clicking on "Property Task Link" and sending it manually to the cleaner:

From their link, the workers can view all the cleanings they still have to do, they will be shown in orange. E.g. Anna Rossi has three rooms to clean on 29 October (201, 202 and 204):

For example, if you click on 201, you can see all the details and you can:

- mark the cleaning as done, so it will turn green instead of orange

- report a maintenance task, e.g. a broken light bulb

- report an object found in that room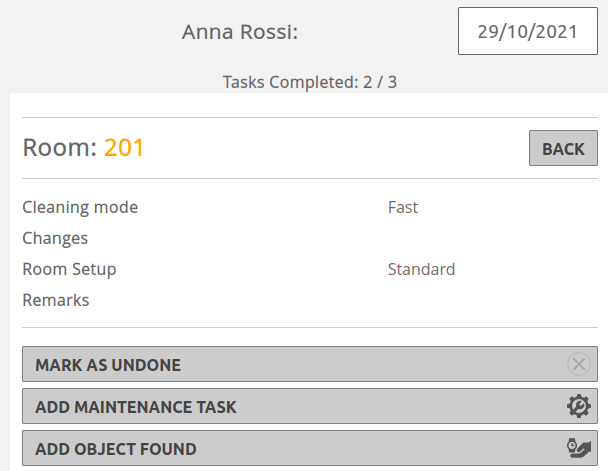 As soon as the worker makes any changes in their link, these will immediately be reflected in the zView and Report, so that those working there can see them in real time.
Broom Paper Report
For more information on the specific report, please refer to the relevant documentation:
☞ Docs: ZaK - Broom Paper Report