The creation of a new Wubook account is free, without obligation.
To subscribe, you need to access the site:
From a single WuBook account you can manage:
Booking Engine,
Channel Manager

PMS  for one or more properties. As soon as you create a property, it has a free period of 2 weeks.
☞ Docs: Multiple properties
In case you manage multiple properties, you can easily switch between them from the control panel without logging out of your account. The area dedicated to your account is called WuBook Home Page. From this page, you can access each WuBook service, create multiple properties, configure their data, change your password, buy our services, and get invoices.
↳ Link: WuBook Home Page

☞ Docs: Security and account control

☞ Docs: Where do I find my Invoices?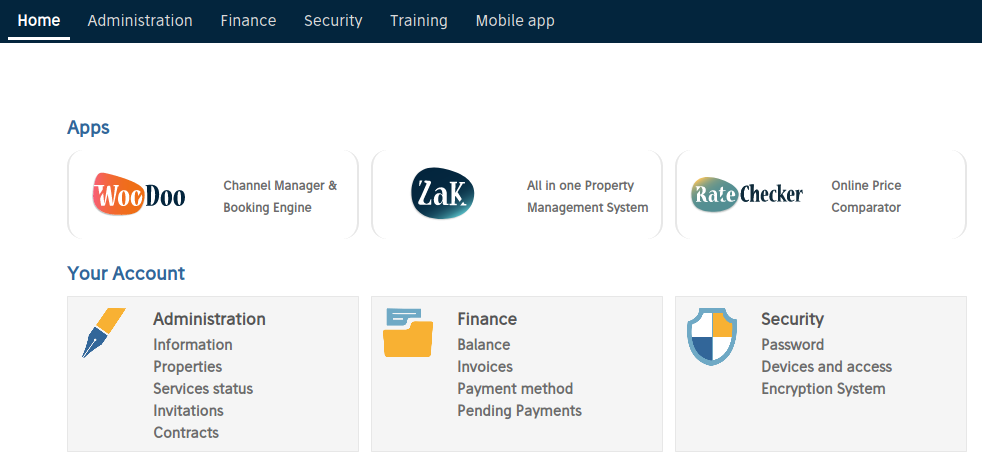 The first step of the configuration is inserting the property data (name, phone, email, etc.). These data are useful to the WuBook support staff to contact you in case of an assistance request.

☞ Docs: Support and training

↳ Link: Administration > Properties
There are two fields for e-mail:
Administrative: this email is used for administrative communications such as: deadlines, etc.
Reservations: the second email is dedicated to notifications of reservations and cancellations.
You can enter multiple email addresses in these fields so that notifications are sent to multiple recipients. You must separate each address with a comma without adding spaces. For example: ricevimento@hotel.com,direzione@hotel.com,prenotazioni@hotel.com